Cyber Threat Analysis & Share

TARGOS

'TARGOS' is the intelligent system of sharing threat information and management.

This shuts off the spread of threat, by applying the threat information, which provides in control tower, to sandbox which installed at agency quickly, so as to utilize the detection system of APT (sandbox) which holds at each agency, effectively. Also, it helps control tower to apprehend the present condition of threat for agency on the whole, by collecting and providing the threat information which occurred at agency.
Standard discrimination system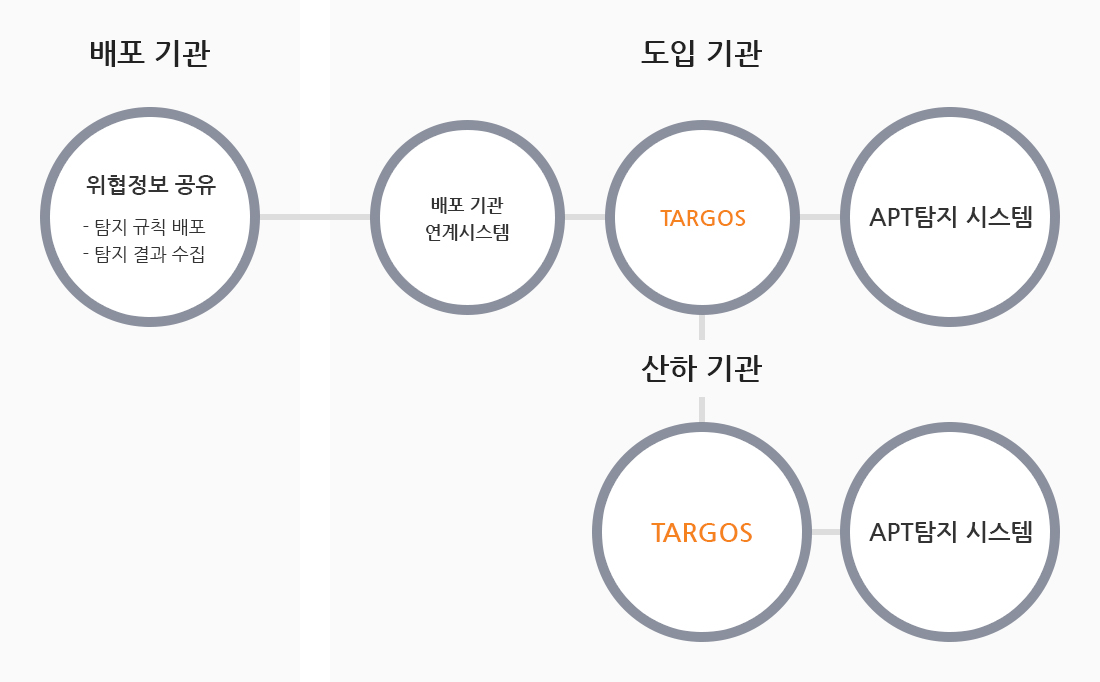 Main Function
TARGOS Relay
Connection system and Linkage

supports the certification system for connection system
encryption communication of HTTPS

Receiving the detection rule

updates the rule periodically
applies the detection rule to sandbox
collects the result of detection (periodical, when Event is occurred)
Transmitting the result of detection

transmits the result of detection periodically
(VirusTotal, MD5, etc.) receiving the results

Supporting multi sandbox

FireEye AX, FireEye NX, EX, BlueCoat MAA, PaloAlto WildFire, Cisco Threat Grid, Wins Sniper, TrendMicro DDA
TARGOS Manager
Linkage with TARGOS Relay

Inquiry for receiving detection rule
Inquiry for transmitting detection result

Monitoring the detection result

Inquiry for detecting result of sandbox
Inquiry for detecting result of transmitting to distributing agency
response of detection result (periodical, when Event is occurred)
Dashboard

as a result of detecting sender, it provides the information of Top N
Inquiry for detecting by each account, agency (based on domain of E-mail)
monitoring agency (supports the organization of agency)
Major screen
TARGOS Relay operational status monitoring

TARGOS Relay transmitting detection result

TARGOS Relay releasing the detection rule

TARGOS Manager dashboard

ARGOS Manager dashboard

TARGOS Manager dashboard
TARGOS
TRS2000

TSM2000

TSR5000

TSM5000
Categories
TARGOS(SW)
TARGOS Relay
TARGOS Manager
TARGOS Relay
TARGOS Manager
Model
TRS2000
TSM2000
TSR5000
TSM5000
CPU
Inter 4Core x 1
Inter 4Core x 1
Inter 4Core x 1
Inter 8Core x 2
Inter 8Core x 2
Memory
32GB
32GB
32GB
128GB
128GB
HDD
SSD 150GB x 1,
SATA 500GB x 1
SSD 150GB x 1,
SATA 500GB x 1
SSD 150GB x 1,
SATA 500GB x 1
SSD 80GB x 2,
SATA 1TB x 2
SSD 80GB x 2,
SATA 1TB x 2
RAID
-
-
-
RAID 1(HW)
RAID 1(HW)
NIC
Inter 10/100/1000 x 2
Inter 10/100/1000 x 2
Inter 10/100/1000 x 2
Inter 10GB x 2
Inter 10GB x 2
Size (HxWxD In)
1.75" x 17.24" x 21.8"
1.75" x 17.24" x 21.8"
3.44" x 16.93" x 27.95"
3.44" x 16.93" x 27.95"
Stack
1 U
1 U
2 U
2 U
Power
AC/DC 750W x 1
AC/DC 750W x 1
AC/DC 750W x 1
AC/DC 1100W x 2
AC/DC 1100W x 2
* TARGOS(SW) : C Minimum Specification